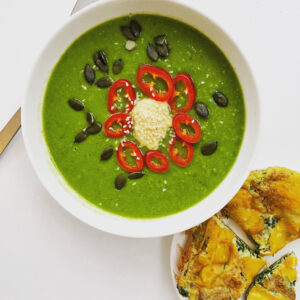 Super Speedy Superfood Soup
When you want something healthy that is quick, nutritious and delicious, then this is my go to soup. It is not only super good for you but it is so so simple to make and usually, even if the fridge is bare, I always have a stock of frozen vegetables. Not even any chopping involved. If you want to know why this soup is super good for you, then check out the recipe notes.
Ingredients
1

bowl

broccoli (frozen)

(400g approximately)

2/3

bowl

garden peas (frozen)

(320g approximately)

550

mil

water

(add more water at the end if needed)

1

stock pot
Instructions
In a saucepan put the broccoli, stock cube and bring to the boil and let simmer for a minute.

Add the peas and bring to the boil and then simmer for a minute.

Place in the blender and blend until smooth. And that's it! Enjoy

I like to add toppings for texture and taste. For example, slices of avocado, hummus, seeds, protein (e.g. tofu cubes or you could add chicken).
Notes
Superfood Soup
I always like to know the health benefits of what the food I am eating can do for my body. Here are some of the benefits from just this simple soup.

 
Broccoli is a cruciferous vegetable and super good for you. It is rich in dietary fibre which is great for your gut and keeps you fuller for longer. It is also a good source of amino acids like tryptophan, plus vitamins such A, beta-carotene, B vitamins, vitamin C, vitamin E, vitamin K and important minerals such as calcium, iron, magnesium, zinc, chromium, potassium and phosphorus. These vitamins are linked to skin health and who does not want a glowing, healthy and radiant appearance.
In 2016, the Journal of Nutrition reported that broccoli may help your liver function better, may boost brain health and neurodegenerative diseases, has many anti-inflammatory properties and may even help combat the ageing process. In addition, the presence of vitamin C, sulpur and amino acids in broccoli make it a good detoxifier. I know I always eat lots of broccoli if I am starting to feel run down or I have over indulged.

 

Also studies have shown that broccoli may help with preventing heart disease.

 
Then there is the peas… Peas are in the legume family and have a high concentration of vitamins, minerals, antioxidants, and phytonutrients. The health benefits of peas range from keeping your eyes healthy to protecting you against certain cancers due to the high amount of anti-inflammatory nutrients that are associated with lowering the risk of inflammatory conditions like diabetes, heart disease, and arthritis. Peas are full of fibre and plant protein which also means they are good for balancing blood sugar levels.