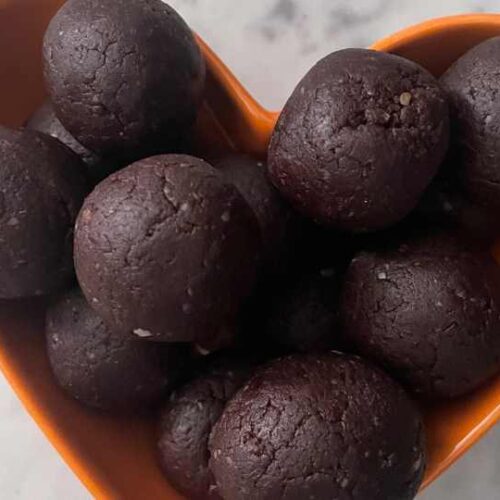 Chocolate Bliss Balls
I  L O V E chocolate. I prefer dark chocolate these days because my palate has changed and I know that the high cocoa content give me lots of antioxidants, plus it is rich in fiber, iron, magnesium, copper, manganese. These bliss balls are made with dates, nuts, flaxseed and raw cocao powder, making them super nutritious and delicious and a great treat for your body and taste buds.
Ingredients
1

cup

dates

1/2

cup

nuts (cashews, pecan, walnuts work well)

2

tbsp

almond butter

2

tbsp

cacao powder

2

tbsp

ground flaxseed

pinch

sea salt (optional)
Instructions
Place in a blender and pulse until binds together.

Roll into small balls using your hands.

Place in the refrigerator to set in an air tight container. They are best cold I think. You can even freeze them. Enjoy!