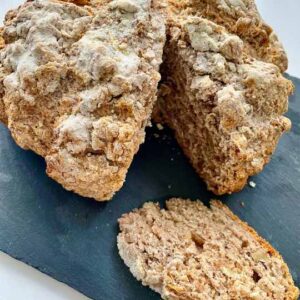 Spelt Soda Bread
Soda bread is healthier for you than standard shop bought bread, which is full of additives and preservatives that can aggravate your gut. Soda bread is made without yeast and is good for those that are intolerant to yeast or have candida. Spelt flour is not actually gluten free, but wholegrain spelt flour has a more essential amino acids and vitamins and minerals. I love this bread spread with avocado, peanut butter and banana or dipped in soup. Isabelle loves it with butter and marmite!
Ingredients
250

g

wholemeal spelt flour

100

g

gluten free flour

Or you can use wholemeal spelt flour instead, I just had gluten free flour to use up and initially thought spelt flour was gluten free (it's not).

1

egg (free range or organic)

350

ml

natural yoghurt

I always get organic dairy products due to the levels of hormones and other things found mass produced dairy products.

1

tbsp

extra virgin olive oil (optional)

1

pinch

sea salt

1

tsp

sugar

(or could use date syrup or maple syrup or even omit)

1

tsp

bicarbonate of soda

1

tsp (heaped)

ground flaxseed (optional)

1

tsp (heaped)

ground chia seed (optional)

60

g

chopped walnuts (optional)
Instructions
Preheat the oven to 190°C/375°F/gas 5.

Sieve flours into a bowl. Mix in dry ingredients.

In a separate bowl, use a balloon whisk to beat the egg and yoghurt together.

Use a fork to stir the egg mixture into the flour, then as it starts to come together, use your hands to pat and bring the dough together.

Shape the dough into a ball and place onto a lightly floured baking tray. Use your hands to flatten the dough slightly so you end up with a disk, roughly 6 to 7cm thick.

Score a cross into the top of the bread with the blunt edge of a knife, then bake in the centre of the oven for 45-50 minutes, or until a firm crust has formed. You don't want to over cook it, otherwise it will be too dry.

Turn the bread out onto a wire rack to cool, then serve slightly warm (goes really well with some soup).
Notes
Be careful not to over-mix the dough – stop mixing as soon as it comes together otherwise you'll end up with tough, dense bread.