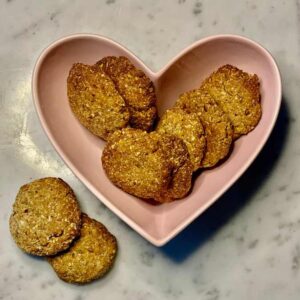 Protein Packed Gingernuts
These gingernuts are made from ground almonds which gives you protein, good fats and vitamin E. Out of all nuts, almonds have the highest protein content. I have added ground flaxseed for extra health benefits. I think these are super yummy and I have to try to not eat too many in one go!! I much prefer them to the highly processed and high sugar shop bought ones. I also love ginger so these are a winner for me. These are super yummy! Ginger is a wonderfully warming spice and has been scientifically proven to have medicinal properties. It has powerful anti-inflammatory and antioxidant effects, aids digestion, reduces nausea, and helps fight the flu and common cold, to name a few of its purposes.
Ingredients
130

g

ground almonds

1

tbs

ground flaxseeds

3

tbsp

ground ginger (or less if you are not a fan)

3

tbsp

date syrup (4 tbsp if you like it sweeter)

(I used a measure spoon rather than an old fashioned table spoon as the measurer seems less than the old fashioned spoon I have).

small

pinch

sea salt
Instructions
Preheat oven to 170C or gas mark 5. Line a baking tray with baking paper.

In a bowl or food processor, combine the dry ingredients and then stir in the date syrup and mix well.

With your hands squash 1-2 tbsp of mixture together to form a ball and then press onto the lined backing tray and form into a round biscuit shape. The thinner the biscuit the crispier they are, or if you want a chewier biscuit, make them a little thicker.

Place in the oven for around 10-15 minutes (check at 10 minutes as you want them to be a little brown, but not overly so and all ovens vary). Leave the biscuits to cool on a tray and they will crisp up. Store in an airtight container once cold.