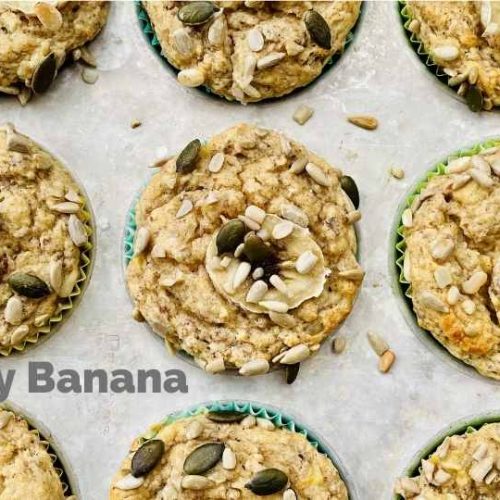 Healthy Banana Cakes
I love eating food that is a not just delicious, but nourishing for my body too. These cakes really are a treat for your body! There is no added sugar, good fats, fibre, protein and lots of vitamins and minerals. The sweetness is from the bananas and this is a great way of eating up over ripe bananas rather than throwing them away. Isabelle loves these cakes too and she will help me make them so it is a fun thing to do together.
Ingredients
3

ripe

bananas

1/3

banana for decoration (optional)

1

cup

ready oats

1

cup

spelt flour (wholemeal if you get it) (or wholemeal wheat four also works well)

2

tbsp

avocado oil / butter / extra virgin olive oil (fat of your choice)

You can get away with 1 tbsp if you are wanting to reduce the fat content

2

tsp

baking powder

1

pinch

sea salt

2

tsp

vanilla extract

1

tsp

cinnamon (optional)

1-2

tbsp

ground flaxseed

1/4-1/2

cup

milk (soya/almond/cow) add if the mixture is a bit dry (e.g if using 2 tbsp ground flaxseed you may need add some milk to stop the cakes being dry and flaxseeds absorb liquid)

Seeds to decorate (optional) (also gives some crunch to the cake)

I use any of the following - sunflower, pumpkin, sesame, linseed, ground seed mix, chopped walnuts, chopped pecans)
Instructions
Preheat oven to 160-170 Mash the ripe bananas in a bowl and add all the wet ingredients and mix.

Add the baking powder and all the other dry ingredients to the wet mix and combine. If using ground flaxseed, add some milk of you choice if the mixture is quite dry. It should be thick, not sloppy, but not dry.

Divide the mixture into cake cases (usually 9 full cakes approximately). I decorate the cakes with a thin slice of banana then some nuts or seeds.

Bake in the oven around 160-170 degrees C for 20-25 mins. Check after 20 mins. They should be a light golden colour.