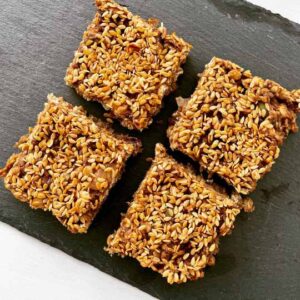 Breakfast Bars
These are healthy enough for breakfast and also tasty enough to have when you want something sweet or an afternoon pick me up. These are great to have to hand to stop you snacking on something unhealthy. They are super easy to make as well and Isabelle loves them. She even likes the mixture before it is baked in the oven. They are nutritious too. There are full of fibre and vitamins and minerals from the wholegrain musli, and the bananas are a good source of potassium, magnesium, vitamin C, fibre and manganese. Almond butter is high in calories, but it is rich in vitamin E, calcium, omega-3 fatty acids and plant steroids. It is also a good source of protein. I also like these with an apple for some crunch and freshness.
Ingredients
150

g

museli

(or you can just use oats)

3

tbsp

almond butter

3

ripe

bananas

1

tsp

ground flaxseed

1-2

tsp

seeds to top (I used golden linseed)

1

pinch

sea salt

(optional)
Instructions
Preheat oven to 170/Gas 4 fan oven. Mash bananas in a pan on a low heat, add almond butter, mix. When the almond butter and bananas have softened and mixed, add all the other ingredients, mix. 

Place on baking paper on a tray. Shape into a square or rectangle. Sprinkle with golden linseeds or other seeds of your choice.

Place in the oven for around 20 minutes until lightly golden. Enjoy!