These are super good for you, delicious and easy to make! Blueberries are high in antioxidants and health giving phytonutrients, they help boost immunity, are high in fibre and they taste yummy too. Oats are rich in a specific type of fibre called beta-glucan which helps to lower bad cholesterol. Flaxseeds are high in omega 3's and fibre and great for your gut. I eat these any time of the day!! Isabelle loves them too!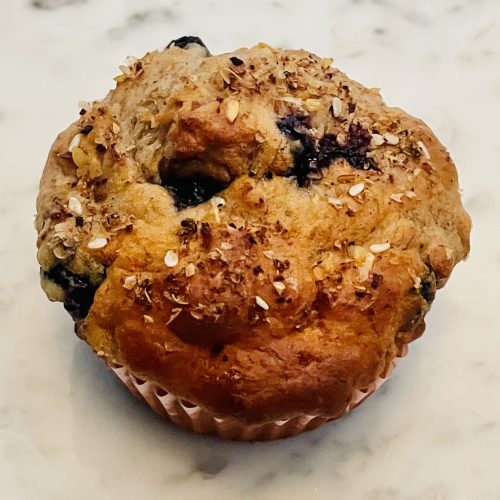 Blueberry Oat Muffins
I actually don't feel like breakfast first thing in the morning and by the time I start to feel hungryI am rushing to get ready to teach, so these are perfect to have instead! They are great any time of the day as a snack or if you want something sweet. They are made with whole ingredients, no added sugar and full of goodness! Perfect for any time of the day!
Ingredients
2

cups

ready oats

(ready oats are a milled wholegrain oats and wholegrain oat flour)

1

cup

frozen blueberries

1

banana (ripe)

1

egg

2

tbsp

ground flaxseed

1/2

cup

soya milk

(or milk of choice)

2

tsp

vanilla extract or paste

2

tbsp

Date syrup

Maple syrup works well. You can reduce to 1 tbsp if you want.

1/4

cup

avocado oil or extra virgin oil

I have also made these with 1/8 cup and I could not taste the difference and they weren't dry so feel free to use less oil if you want.

2 1/2

tsp

baking powder

pinch of sea salt

optional

I like to add seeds or a milled seed blend to the top for decoration and/or crunch
Instructions
Preheat over 175 degrees C. Get a cake tin and add cake or muffin cases (usually 6-8).

Leave the blueberries to the side. Mix all the wet ingredients together and then fold in the dry and mix. Gently add the blueberries and fold until evenly distributed.

Place mixture into the cake or muffin cases (usually 8 cakes, 6 muffins).

Place in oven and cook for around 25-35 mins (every oven is different so check on them after 20 mins to check they aren't burning). They are cooked when golden brown or a skewer comes out clean.
Notes
My Banana & Blueberry Muffin recipes have more bananas in them and there is a definite taste of banana. By just using one banana (and if it is not black) you can't really taste the banana in this recipe but it does add moisture. Because I took out 2 bananas I replaced them with the date or maple syrup.  I am sure you could use honey too if you preferred.