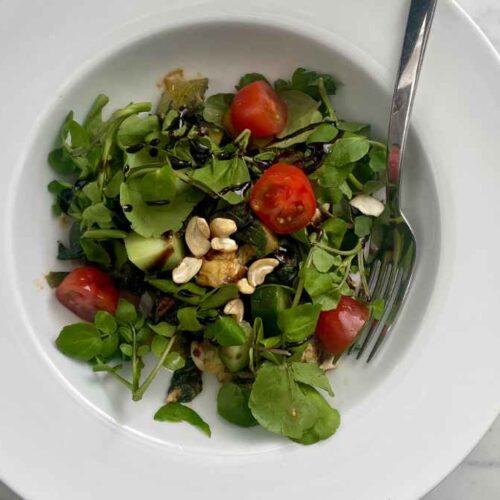 Warm Sun-dried Tomato Pesto, Chicken & Watercress Salad
This is such a quick and easy meal to make that is really tasty, substantial, high in protein and packed full of goodness. The inspiration came from having to follow a los FOBMAP diet and having only a courgette, frozen spinach and some left over watercress and cucumber in the fridge and a jar of pesto and sun-dried tomatoes in the cupboard. I made it with left over roast chicken and it was delicious. I was surprised that Isabelle loved this (she did leave the watercress!).
Ingredients
1

large

courgette, chopped into small cubes

1/4

cucumber, cut into small cubes

5

sun-dried tomatoes from a jar, chopped into chunks

1

tbsp

oil from sun-dried tomatoes

2

tsp (heaped)

green pesto

(I used reduced fat as that is what I had in the cuboard)

1

cup

defrosted frozen spinach

1/2

pack

watercress

4

baby plum tomatoes (optional)

1

chicken breast from a roast chicken or equivalent

pinch of black pepper

balsamic glaze to dress

1

tbsp

pine nuts or cashews (or any other seeds or nuts you may like ti add).
Instructions
Heat the sun-dried tomato oil in a saucepan, add the chopped courgette and cook on a medium to high heat. Add in the sun-dried tomatoes and pesto. Stir and cook for 4 minutes. Add the defrosted frozen spinach and stir, add the chicken and cook for another 1-2 minutes until the courgettes have softened to your liking.

Divide the mixture into two bowls. Top with the watercress, chopped cucumber and fresh tomatoes if adding, drizzle with balsamic glaze, fresh ground black pepper and sprinkle of pine nuts or chopped cashews for some crunch. Enjoy! x