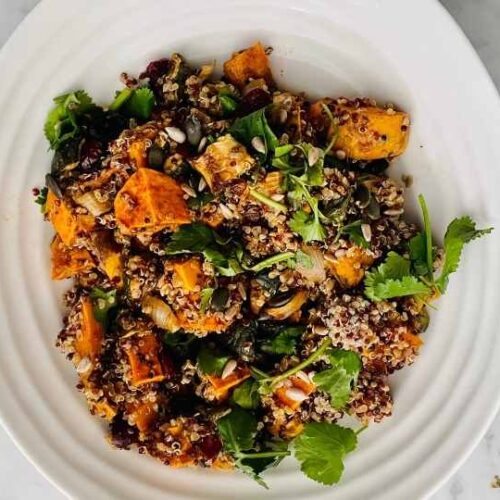 Sweet Potato & Lentil Salad
This salad is rich in vitamins and nutrients essential for health. Sweet potatoes are an excellent source of fibre, beta carotene, vitamin C, and potassium. The antioxidant beta carotene is needed by your body to convert to vitamin A (vitamin A is needed for good vision and eye health, for a strong immune system, and for healthy skin and mucous membranes). Potassium helps with blood pressure and lowers the risk of heart disease. Lentils are a good source of protein, fibre, folate, iron, potassium and manganese, and polyphenols that have antioxidant activity. The seeds provide essential fats, protein and zinc. Olive oil is great for your brain health and skin. So this is super nourishing salad!!
Ingredients
1

large

sweet potato, peeled and in small cubes

(or two medium)

1

large

courgette, chopped into cubes

(or two medium)

1

pack

precooked green lentils

1

tsp

ground coriander

1

tsp

ground cumin

1/2

tsp

cayenne pepper

(more if you like it hot)

60

g

dried cranberries

60

g

mixed seeds (such as pumpkin and sunflower)

1

medium

onion, chopped into small pieces

bunch of fresh coriander, chopped

(the coriander does add something special so worth adding)

1

large

lemon (juice of)

good glug of extra virgin olive oil
Instructions
Preheat oven to Gas 5/190c/370f

On a baking tray, combine the sweet potato, courgette and onion, a drizzle of olive oil, cumin, pepper and coriander. Add a pinch of sea salt (optional).

Spread out evenly and coated, on the baking tray and place in the oven for 35-45 minutes. They are ready when the cubes are soft and the outside is starting to brown.

In a large bowl, combine the lentils (warmed up if having this warm), the sweet potatoes, courgette, onions, seeds, cranberries, chopped fresh coriander, lemon juice, drizzle of olive oil and black pepper. Mix well and serve.
Notes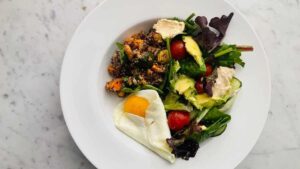 Tips
If you are having this as a main, I would add green leaves, such as spinach, watercress, rocket etc. and/or some tomatoes and cucumber to make it even more nutritious and less carb dense. I would also add some protein. It goes really well with beans, egg, chicken or fish. The above picture is an example of a light lunch on a day that I was not particularly active: 50% veg; 25% starch based carbs: 25% protein.