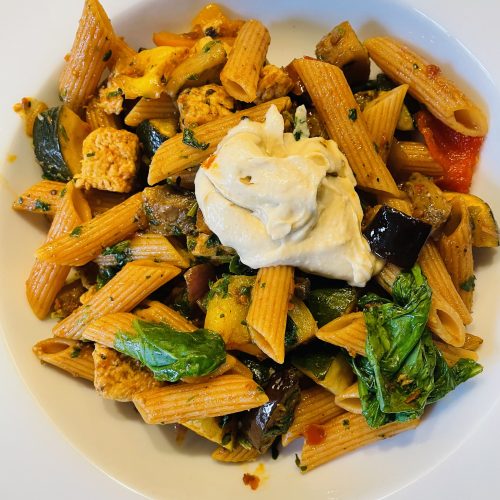 Roasted Mediterranean Vegetables & Red Lentil Pesto Pasta
This is my Roasted Mediterranean Vegetables & Red Lentil Pesto Pasta recipe. I have packed in as many veggies as possible and taste, but with minimal effort and time. It is totally versatile and you don't have to do it with red lentil pasta, you can add pasta of your choice, and/or fish, chicken, prawns, tofu or quorn.
I also do large portions so that I have left overs for Isabelle's meals and for me to have left overs in the week.
Ingredients
3

peppers

2

courgettes

1

red onion

1

aubergine

2

large mushrooms (optional)

(or 6 small mushrooms)

4-6

sun-dried tomatoes or sun blushed tomatoes

2

tbsp

oil form the sun-dried tomatoes

2-3

balls

spinach

(either frozen spinach balls or 3-4 handfuls of fresh spinach)

1-2

tbsp

red pesto

(or to your taste)
Instructions
Pre heat oven at 180/Gas 4 Fan oven. Chop the onion into small pieces (about 1cm) and the rest of the vegetables into chunks that are about the same size. Put aside the mushrooms and add 15 minutes before the end of the cooking time.

Place all the vegetables in a large roasting tin. Drizzle about 2 tablespoons of the sun dried tomato oil over the vegetables and place in a pre heated oven at 180/Gas 4 Fan oven for around 45 mins approx. Stir occasionally. Half way through cooking, add one to two table spoons of pesto - depending on how pesto-ish you want it.  Add pepper but not salt. Then after 30 mins add the mushrooms. When the vegetables are soft, add the spinach to just wilt for a couple of minutes in the oven.

Cook the pasta. Once the vegetables are cooked, add some pasta to the roasting dish of veggies (quantity of pasta depends on the ratio of veggies to pasta you want, I like the taste of more veggies). You don't even have to have pasta, you could also add some chicken, tofu or quorn chicken style pieces, or some cheese.
Notes
OPTIONALS AND SWAPS
Pasta- you can swap for rice, pasta, chicken, tofu, quorn etc.
Pine nuts (adding a table spoon of pine nuts for some crunch)
Chilli's

 
Sweet red peppers or jalapeños from jar
Humous, cheese, avocado

 on the side
Spinach (fresh or frozen or both!) - sometimes I have added both!