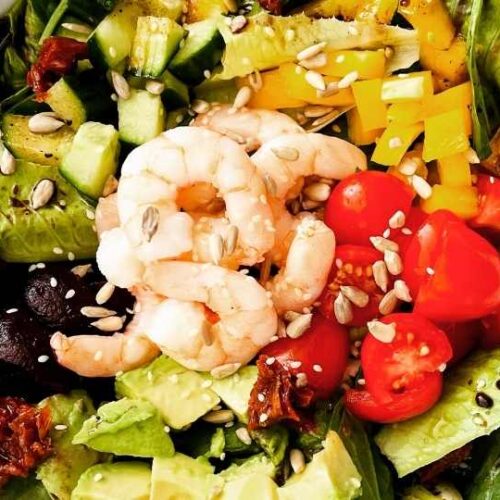 Rainbow Salad
You may have heard that we should eat a rainbow of fruit and vegetables. This is becuase different-colored plants are linked to higher levels of specific nutrients and health benefits. While eating more vegetables and fruit is always a good idea, focusing on eating a variety of colours will increase your intake of different nutrients to benefit various areas of your health. Salads are a great way to eat a rainbow of different coloured vegetables and even fruits. Summer is the pefect season for eating salads. Also, if you are into auyveda, raw salads can actually be hard to digest and are cooling so you should eat them in the summer and ideally at lunch time when your digestive system is at it's peak. Salads can also feel really light on the system so you feel more energized after eating them and less likely to have a post-lunch slumb. Try this colourful salad, which is packed full of wonderful nutrients and goodness for your body.
Ingredients
cucumber

(peel it if you have a weak digestive system)

spinach

cos lettuce or mixed salad leaves

baby plum tomatoes

(or any other type of tomatoes, I just like the sweetness of baby plum)

beetroot

(pre-cooked, you can use the ones that also have been soaked in vinegar if you prefer)

1/2

avocado

grated carrot

pepper (your choice of colour)

(I can only eat yellow or orange raw, green and red peppers raw don't agree with my sensitive digestive system)

spring onion (optional)

(or you could use a couple of slices of red onion if you like onions though. I can't stand the lingering after taste of raw onions)

prawns (or substitute for another protein source)

(get good quality prawns as I think they taste so much better)

extra virgin olive oil

balsamic vinegar

(I get the supermarket own brand organic)

balsamic syrup (to drizzle over at the end)

salt and pepper to taste (optional)

sprinkle over some mixed seeds (optional)

(I like a few pumpkin seeds and sunflower seeds on the top for added crunch and texture)
Instructions
Wash the salad leaves and spinach and leave to drain and dry a little or use a salad spinner to take off the excess water.

Chop the cucumber, tomatoes, beetroot peppers and avocado into small cube-like chunks.

Chop the salad leaves and add to a bowl with the baby spinach. On top of the leaves arrange the rest of the veggies so it looks pleasing to your eyes. Add the prawns.

Mix the olive oil, balsamic vinegar and seasoning in a bowl, drizzle over salad. Then drizzle over the balsamic syrup. Voila and enjoy!