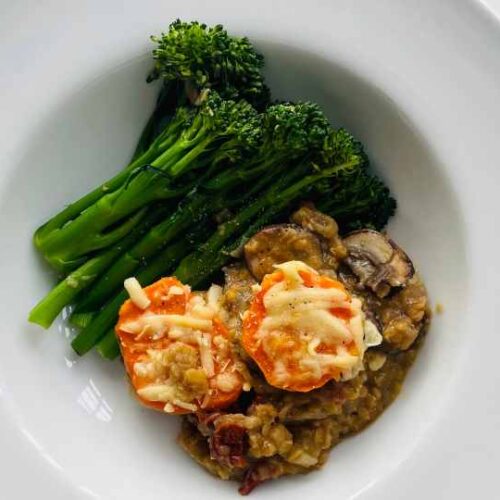 Lentil, Mushroom & Sweet Potato Bake
This recipe is so much tastier than it sounds! It is super nourishing comfort food and easy to make. I like to serve it with some green vegetables on the side or it goes well with a good mixed salad and balsamic dressing. Also, if you are concerned by the amount your food shop has gone up, then this is a money saving recipe as lentils are cheap, but very nutritious and have numerous health benefits. Lentils are also low in sodium and saturated fat, and high in potassium, fibre, folate, and plant chemicals called polyphenols that have antioxidant activity. They are a good source of protein too!
Ingredients
1

large

onion, chopped into small pieces

(red or white onion)

2

sticks

celery, chopped into small pieces

200

g

red lentils

500g

mushrooms, sliced

(I like chestnut mushrooms best with this)

10

sun-dried tomatoes, chopped

3

tbsp

oil from sun-dried tomatoes jar

2

tbsp

worstershire sauce

salt and pepper (optional)

4

crushed gloves of garlic (less if you don't like garlic)

700

ml

vegetable stock

(if during cooking it looks a bit dry, add a little more water or stock)

2

tbsp

tomato puree
For the topping
1

large

sweet potato (peeled and sliced 1cm thick)

(or two medium sweet potatoes)

40-50

g

sprinkle of grated cheese on top

(can use vegan cheese)
Instructions
For the Lentil, Mushroom and Tomato Base
In a large sauce pan, heat the oil in the frying pan, add the onions and celery and fry for about 5 minutes. Add 2 gloves of garlic and fry for about 30 seconds, stirring the mixture. Add the lentils, stock, tomato paste, stir and bring to the boil. Add the chopped sun-dried tomatoes and season with salt and pepper. Simmer for 20 minutes or until the lentils are cooked and the liquid is absorbed. Stir in the Worcestershire sauce.

Meanwhile, add some of the sun-dried tomato oil to a large frying pan, add two garlic cloves the mushrooms and fry over a medium to high heat for a few minutes to brown a little in colour and soften. Season with salt and pepper. Add to the lentil mixture. (I find doing the mushrooms this way adds more flavour, but if you are rushed for time, you can simply add them to the mushroom mixture without this step and they will cook with the lentils). Stir everything together and simmer all together for a couple of minutes.

Once the lentil mixture is cooked, transfer to an oven proof dish.
For the Topping
Cook the sweet potatoes in a pan of boiling water for 5–8 minutes until soft, then drain well.

Place the cooked sliced potatoes on top of the lentil base. Add the cheese.

Place the oven proof dish under the grill to melt the cheese until it is slightly golden brown. Or you could do this in the oven, but I find it is quicker under the grill.

Once browned under the grill, serve with some greens or a side salad.
Notes
Some swaps, suggestions and alternatives
You could swap some of the stock with a little white or red wine.
You could use mozzarella or halloumi cheese.
You could use puy lentils rather than red lentils.
I sometimes add a chopped pepper as well and it tastes really good.
It's great with squash on top instead of sweet potato.