I made this recipe up as I love the taste of a Bakewell Tart but find them too sweet. I am also conscious that I need to feed my body with as much goodness as possible so I try to avoid empty calories where I can or want to.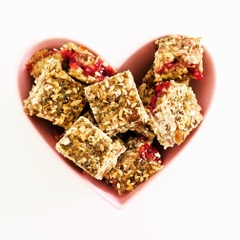 Healthy Bakewell Flapjacks
Great to have something healthy to hand either for a quick breakfast, healthy snack or desert (I have a sweet tooth so I always crave something sweet at the end of a meal). These bakewell flapsnacks as I call them are loaded with good things for your body and are really good for your digestive system due to the linseeds, oats and natural fibre.
Ingredients
200

grams

Oats

2

tbsp

Vegan Spread/Butter/Flora/Oil

1

tbsp

Almond Butter

60

grams

Ground Almonds

1

tbsp

Golden Lindseed

2

tbsp

Honey or any sweetner of choice

(Helps to bind and sweeten)

60

grams

Chopped Almonds

(Optional)

1

pinch

Sea Salt

1

large handful

Raspberries

If frozen, defrost and omit juice

2

tsp (heaped)

Raspberry conserve

Or rasoberry jam

80

grams

Sultanas

You can omit the sultanas and works well without. I soak the sultanas in a little boiing water to make them plum and juicey, it also stops the flapjacks being dry. Use the liquid too. Totally optional.

1-2

tsp

Almond Essense

I love cherry bakewell flavour so I use 2 tsp but try with one first or taste mixture before adding second.
Instructions
Pre-heat oven to 160 degrees Celsius. Soak sultanas in a little water if you are doing that option. Simply mix all the ingredients together except the raspberries and jam/conserve. Divide the mixture in half place and place half onto greaseproof paper or baking parchment on a baking try or in a medium size dish.  Press down and level with a fork to make a base.

Press the raspberries over the base then spread the jam or conserve over the raspberries.  Then spread the rest of the oat mixture over the top. Press down gently with a fork.

You can sprinkle seeds on top if you wish (like sunflower or linseed)

Bake in the oven for around 20 minutes or until lightly golden. Cut them into any size pieces you like.
Notes
Swaps Oats – use Musli instead
Vegan spread – use any oil/ marg/butter/fat of your choice (just choose something that does not have a strong flavour).
Sultanas – omit as not necessary or could use chopped dates or raisins.
Ground almonds – chopped whole almonds