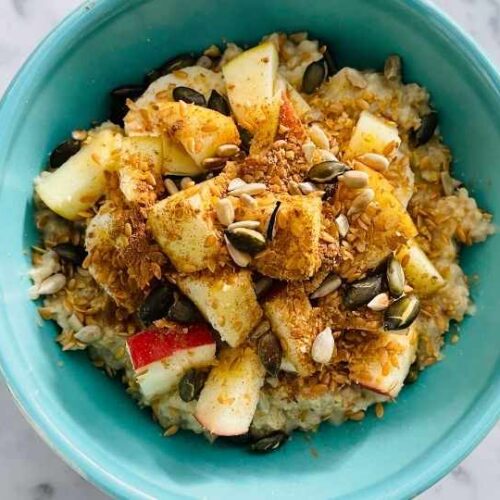 Banana Porridge with Cinnamon, Apple & Mixed Seeds
This warming delicious porridge is perfect now that the mornings are colder. I could eat this any time of day! It's healthy comfort food and warm foods are really good for the body during the cooler seasons and both Ayuveda and Chinese medicine advocate that eating warm foods during autumn and winter is vital to keep our bodies healthy and balanced. Time to ditch the cold smoothie or juice in favour of something warm!
This porridge is super healthy because the oats are wholegrain and contain beta-glucan which can help lower your cholesterol. Oats are also loaded with vitamins and minerals essential for health. I love using a ripe banana to sweeten the porridge and I add cinnamon as it tastes yummy but is also said to be helpful for managing blood sugar levels and lowering the risk of type two diabetes. It is also thought to have anti-viral, anti-bacterial and anti-fungal properties. Research is also now being undertaken on how cinnamon can help an ageing brain with hopes of helping conditions like Alzheimers.
I am a big fan of linseeds and milled lindseeds. They are found to be really helpful for ibs and they are rich in omega 3 fatty acids, fibre and protein.
Ingredients
100

g

porridge oats

1

banana (ripe)

400

ml

milk or water (I use soya or almond milk)

(adding your choice of milk also boosts the vitamin and nutrient content)

1/2

tsp

cinnamon (optional)

1

small

apple (chopped into small pieces)

1

tsp

golden flaxseeds

1

tsp

ground flaxseeds

1

tsp

pumpkin seeds

1

tsp

sunflower seeds

1

pinch

sea salt (optional)
Instructions
In a saucepan, mash the banana and add the oats and milk or water (pinch of salt if using) and place over a medium heat to bring to the boil. Once it bubbles, stir with a wooden spoon for 4-5 minutes.

Remove the pan from the heat and divide the porridge between 2 bowls.

For the topping, add the apple, sprinkle of cinnamon, and seeds. Enjoy.
For anyone who is on my Shape Up Plan or is trying to lose weight, try substituting 25% of the oats in the recipe for oatbran, which has less carbs and more fibre. See how your body responds to the extra fibre first before increasing the amount of oat bran. You need to give your gut time to adjust to a higher fibre diet to avoid being bloated.